What our customers are saying
Our chairs are beautiful and so sturdy! They arrived last week and were easy to assemble. Hands down great product and company. Thank you!
THANK YOU SO MUCH TO EVERYONE!!!!!!!! The Adirondack chair came in yesterday, and it looks amazing. I couldn't be happier. Thank you very much for this special piece.
We love our new furniture ! You now have my award for greatest small business in North America. Thank you!
Thanks for making these excellent quality chairs. The quality is second to none. It was worth the wait! Will recommend these to friends!
Industry Leading Designs
We were the first company to offer a folding Adirondack chair – now many companies offer folding versions. We were the first company to prioritize offering Adirondack chairs designed to accommodate a broad range of body types and ages. You only need to sit in one of our chairs to see the biggest difference of all – comfort.
We pride ourselves in delivering an exceptional customer experience before, during and after your purchase.  As we like to say "you become part of our family when you buy our furniture".   
Our History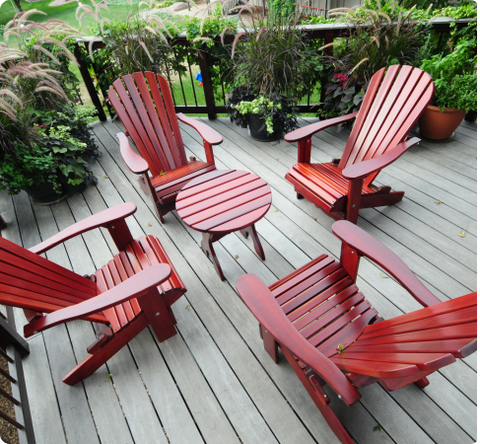 Only the Best Adirondack Chairs
We've provided exceptional designs and finishes since 1955, handcrafted in Canada with care. Our team at The Best Adirondack Chair Company knows what it takes to ensure quality, longevity, and utmost customer satisfaction. With our Adirondack chairs, you can't beat their weather resistance, easy maintenance, and an oh-so-relaxing sit each time! Discover them for yourself today.
High-Quality Materials
Our Poly-Luxe Adirondack chairs are made with high-density polyethylene lumber, also known as poly-lumber. We use recycled plastics and turn them into long-lasting chairs. By mixing them with wood grains, we can give you the look and feel of natural wood without any extra maintenance required! These are also completely weather-resistant and pest-resistant. We offer a lifetime guarantee on our Poly-Luxe Adirondack chairs because we're confident they won't break, not to mention the fact that you'll thoroughly enjoy them for years to come!
We also offer a number of wood options, including cedarwood and pine. You can take advantage of our industry-leading, four-step staining process if you so desire. We use lumber harvested by Forest Stewardship Council certified suppliers. That means for each tree cut down, two are planted in its place.
Adirondack Chair Styles
Whether you like the traditional knot and burls look of knotted cedarwood or bright colours available through our Poly-Luxe line, we have an Adirondack chair for you. Our chairs are completely customizable. Get yours in the texture and colour you prefer. We offer additions such as ottomans and coffee tables and sell our chairs in sets.
Our chairs come in three sizes - the Classic, the Royal, and the Grand. All three are foldable. The Grand is our widest chair and is suitable for larger individuals. The Royal is our bestseller. Slightly wider than the Classic and flatter, it is the easiest chair to get in and out of.
Frequently Asked Questions
What are the best Adirondack chairs?
We pride ourselves on making the best handcrafted Adirondack chairs. What makes our chairs different? We customize them to fit your specifications, so you're always getting the best chair for you. Our chairs are long-lasting because we only use high-quality materials, and the only maintenance required is the occasional clean with soap and water.
Are Adirondack chairs Canadian?
The Canadian version of the Adirondack chair is called the Muskoka chair, found mostly in Ontario and Quebec. The Adirondack chair was created in the Adirondack mountains. Americans brought their chairs to the Muskokas for cottage season. There, it was adopted and manufactured under a new name. Muskoka chairs are almost indistinguishable from Adirondack chairs.
Do you ship across Canada?
We sure do! The Best Adirondack Chair Company has been online since 1999. We ship handcrafted, customized Adirondack chairs all across Canada. Your comfort is our priority.
Need a Hand with Your Order? Contact Us Today!