Folding Royal Reclining Adirondack Chair (Large)
Our unique Royal Recliner Adirondack chair takes our Royal model and adds 4 optimal reclining positions. Handcrafted to superior quality. The seat angle is slightly flatter making it easier to get in and out of than any competitor. It is comfortable for people of all sizes. Our reclining Adirondack chairs have a curved back and a 22-inch-wide curved seat, can support up to 400 pounds.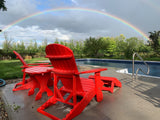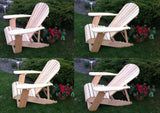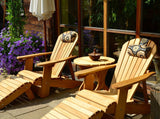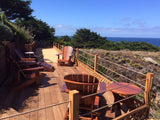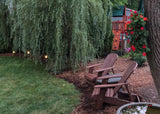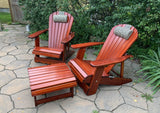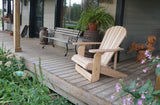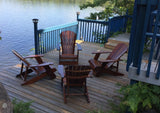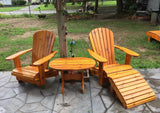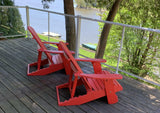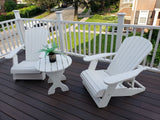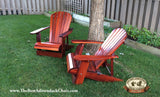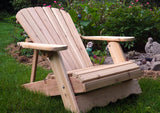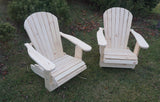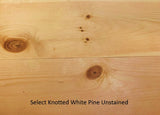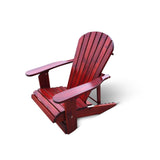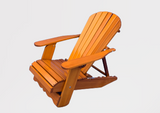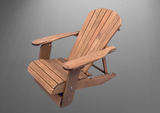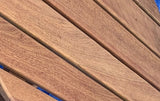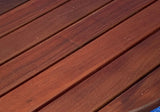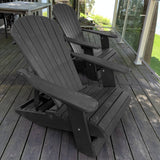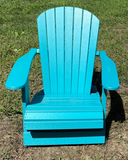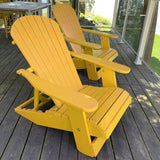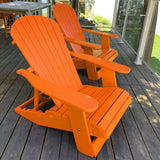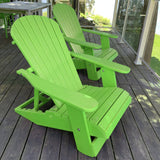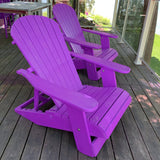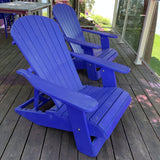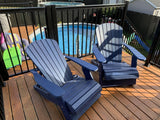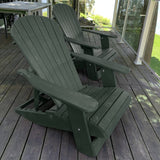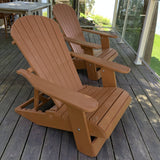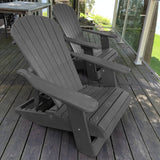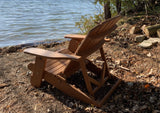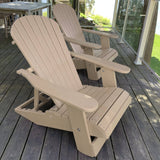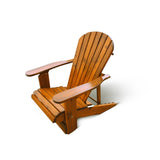 vs Competitors
Feature
The Best Adirondack
Chair Company
Big Box Stores
Poly & Composite
Competitors
Wood Competitors
Material Used
Full 1" thick solid wood or 100% reclycled plastic full 1" thick
3/4" or thinner Wood & Plastic
3/4" recycled plastic or plastic filled wood sawdust
3/4" or thinner Pine or Cedar Wood
Hardware
Oversized(never rust) Stainless Steel
Zinc Plated
Stainless Steel (some) Most Zinc Plated
Stainless Steel (some) Most Zinc Plated
Guarantee
Lifetime Warranty
Limited 20-Year Warranty
Comfort
Curved seat & curved back supports lumbar for exeptional comfort
Curved back (some) Most models with flat back & seat
Curved back (some) Most models with flat back & seat
Curved back (some) Most models with flat back & seat
Ease To Get In & Out
Seat not as steep as others

Steep Seat

Steep Seat

Steep Seat
Customizable
Yes
Manufacturing
Handcrafted in Canada
Mass Production
Mass Production
Mass Production
Sanding & Routering
Fine hand sanding & routering
(no square or rough edges)
Mostly square edges with some routering
Mostly square edges with some routering
Mostly square edges with some routering
Finishing Available
Yes
Assembly
Kit or Partial
Also full assembly available upon request
Kit Assembly Only
Kit Assembly Only
Kit Assembly Only
Frequently Asked Questions
Where should I order a reclining Adirondack chair?
We're the best choice around by a long shot, and that's due to a few factors. First is our dedication to handcrafted excellence, carefully sourcing only the finest materials when assembling your chair. Next is our approach to details, such as our special four-stage staining process using SICO ProLuxe stain (equivalent to three coats), hand drying, and more. Third is our after-sales support, 10-day return policy, and best-in-class guarantees – we're here for you to ensure you're satisfied with your purchase for years to come!
How do I maintain my reclining Adirondack chair?
Washing down with soap and water, then rinsing thoroughly, is all you'll really need to do much of the time. This only needs to be done every few weeks or so. As for the paint or stain, we recommend reapplication every few years or so if you don't want to go with a naturally aged look (this particularly applies to wooden Adirondack chairs).
Which is better, wooden or plastic Adirondack chairs?
There's no bad choice as far as we're concerned – it's all down to your budget in addition to style and material preference! Woods can be ordered untreated or stained, the latter of which offers exclusive choices such as an immaculate caramel finish for clear cedar chairs. For Poly-Luxe, you have a wide array of both vibrant and neutral colors available to you in addition to wood grain options. These are constructed with 100% recycled plastics and hardly need any maintenance – you can leave them out all year long without worry!
Interested in Ordering? We're Here to Help! Contact Us Today.
Frequently Asked Questions
Our Reclining Adirondack Chair products make use of an adjustable seat back. This can be set at any one of four angles, including 43, 47, 54, and 62 degrees. The higher the number, the more upright you'll sit.
Gentle washing and scrubbing with mild soap and water is all it takes to keep your Adirondack chair looking its best and feeling clean to the touch. If you prefer to maintain the like-new appearance, you'll be able to reapply stain or oil to the specific type of wood you ordered your chair in or let it wear and patina naturally over time instead. Alternatively, consider our Poly-Luxe material, made with 100% post-consumer recycled plastics, which doesn't fade in the sun and is even more durable.
Absolutely! From reading a book by the pool to taking an afternoon snooze with the dog in your lap, there are plenty of ways to make use of the reclining feature. The multiple adjustable angles make it practical for even more use cases, including fireside chats and otherwise.