by DFC Wordworks Admin
Jul 29, 2020
7 of the World's Most Beautiful Log Cabins
7 of the World's Most Beautiful Log Cabins
As more and more of us attempt to escape from the modern world and get back to nature to pursue simpler lives, log cabin homes are inevitably gaining popularity. But gone are the days when log cabin homes bring to mind lonely men with white beards whittling on their porches, nowadays a log cabin can be as stylish as a penthouse studio in New York… you just need to know where to look. We at The Best Adirondack Chairs bring you our top 7 list of our beautiful log cabins from around the world…
1. Pioneer Log Homes – British Columbia, Canada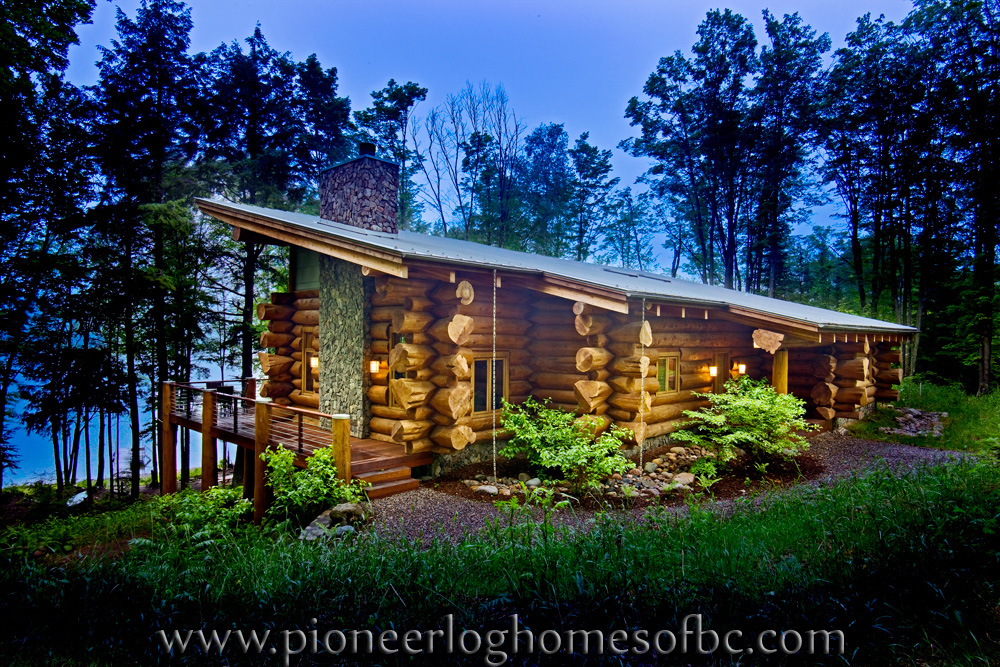 Oh, Canada, of course you'd make the top of the list. Pioneer Log Homes are based in British Columbia but also offer homes across Scotland in the UK. These beautiful log cabins, custom built from Western Red Cedar are not only sustainably built and state-of-the-art, they also offer some of the best views of BC's famously spectacular scenery.
2. Plus Arkkitehdit's Villa L – Southern Finland Scandinavia is a haven for log cabin homes and Finland is no exception. Created by award winning architects at Plus Arkkitehdit, these villas are some of the most stylish we have seen, featuring floor-to-ceiling windows, sleek finishes and minimal design. And don't let the Finnish weather put you off, because many of the beautiful log cabins in Plus Arkkitehdit's portfolio come fitted with their own wood-heated saunas. Sold!
3. The 'Garage' – Seattle, United States A feat of architecture, awarded for the 2014 Copper in Architecture award among others, the 'Garage' is one of a growing number of modern log cabin homes to utilize intelligent space-saving design, with hidden beds which fold into lounge chairs, cabinet doors, integrated solar panels and foldable patio doors.
4. Rorbuer Huts – Lofoten, Norway A name made famous by their memorable, red-painted finishes and jaw-dropping backdrops, Rorbuer Huts are Norway's most sought-after rural retreats. Once used as accommodation for fishermen and dating back as far as 1890, these log cabin homes have since been renovated and provide both solitude and clean air on the Lofoten Islands.
5. Drina River Home – Bajina Basta, Serbia The craziest in our list of most beautiful log cabin homes, this cabin has been perched on a rock in the middle of the Serbian Drina River for over 45 years, even surviving through severe weather and flooding. Built from the remains of an old shed which was shipped in by a kayak, by some guys who just wanted a good sunbathing spot, this is human ingenuity at its best (or madness, you decide). Let's just hope they brought their best Adirondack chairs inside when the storms came.
6. Hawk House – Central California, United States
Just seven by nine foot, nestled within a Californian Redwood canyon, Alex Wyndham's 'Hawk House' is a fine example of sustainable and minimal living. While tiny, the design is both innovative and modern, featuring glass doors which fold out for a panoramic ocean view, offering a prime whale-watching spot from the comfort of your own bed.
7. Tiny Cabin in the Woods – New York, United States Made from century-old salvaged barn wood and other sustainable materials, this is the eco-friendliest of the log cabin homes listed. Located in Sullivan County, Upstate New York, surrounded by forest and complete with raised balcony and massage room, this cabin wins its 'eco' title due to the fact is has no running water or electricity! But, no problem… the owners simply bathe in a nearby brook and use a composting toilet in the outhouse.

About The Best Adirondack Chair Company At The Best Adirondack Chairs we do what we say we do; simply, offer the best Adirondack chairs and handcrafted furniture of the highest quality, to you, wherever you are in the world. As well as Adirondack chairs, we also sell patio sets, accessories, footrest and side tables, garden swings, lounge chairs and more, in many different designs and finishes. You don't have to live in one of the world's most beautiful log cabins to buy our products… all you need is a love of the outdoors and of simple, timeless design. Image credits: Pioneerloghomesofbc.com, Plus Arkkitehdit, Amos Morgan Photography