Marijuandack Giant
The giant Marijuandack chair is a unique and beautiful show piece that is sure to attract attention to your storefront and increase business.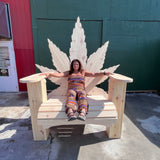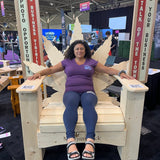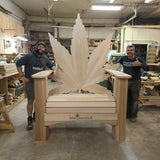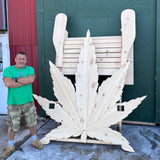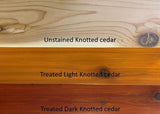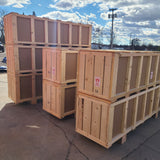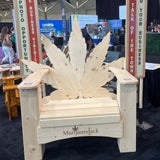 Frequently Asked Questions
The Classic Adirondack Chair is the traditional, iconic Adirondack chair. It works well in even tighter seating areas, is comfortable and features wide armrests, and can be custom ordered in a variety of materials. These chairs come with our lifetime workmanship guarantee as well as free shipping to most areas.
Yes. Our Classic Adirondack Chair products and many other models can be folded up very easily. This is ideal for when you need to take your favorite seat to another property, store it away for the winter or when not in use, or rearrange your patio.
If you're looking for a tried-and-true, handcrafted outdoor lounging experience that can support up to 300 pounds, you can't go wrong with a Classic model. This chair features a seat measuring 20 by 18 inches, a back measuring 30 by 20 inches, and takes up the smallest amount of space possible. Reach out to us today if you require further assistance or need help with comparing our available chair options.
We love providing our customers with plenty of customization options. From the type of material used (including premium wood species and 100% recycled Poly-Luxe) to add-on accessories and companion products, multi-stage staining, oiling (on IPE wood) and more, there's no shortage of choices.